D-Wave participates in a number of conferences and trade shows each year. We also host webinars about quantum computing and D-Wave technology. Check here for upcoming events.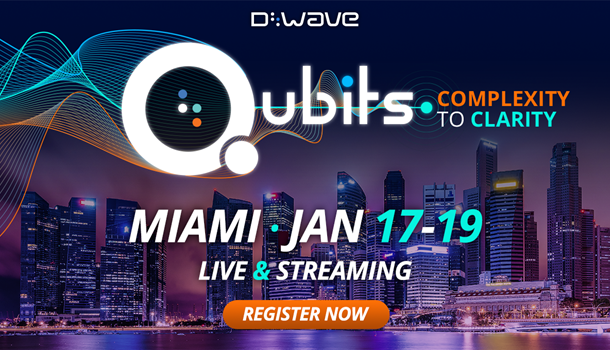 Conference
Qubits: Complexity To Clarity
Our annual Qubits conference will be live in Miami Beach and streamed online! Whether you join us in Miami or online, Qubits is a must-attend event and one of the premier industry conferences on quantum computing. Register today to hear from experts about their quantum applications and projects and learn how enterprises are using D-Wave's quantum technology to solve real-world problems.
Register Today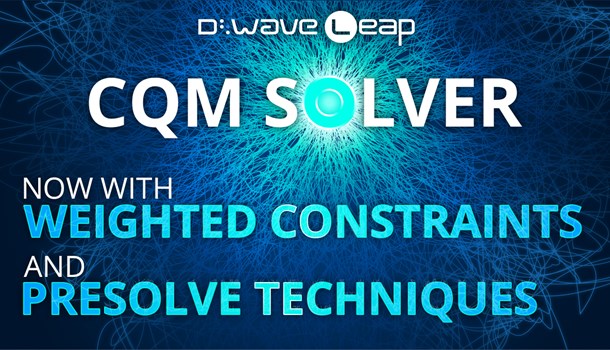 Webinar
CQM Update: Weighted Constraints & Presolve Techniques
Register for our upcoming webinar to learn more about the new CQM updates, which include support for weighted constraints and presolve techniques, and see them in action in a live demo.
Register Today!

30, August 2022
Quantum Programming 101
Learn more about the tools and methods to build an application for a quantum computer from D-Wave experts.
Watch The Recording

28, September 2022
Quantum and the CTO
Learn more about Brian Lenahan, Founder & Chair of the Quantum Strategy Institute, discussing setting tech spend priorities, championing quantum spend, and more.
Watch The Recording

28, July 2022
Goodlabs: How We Built a Real-Time Quantum Liquidity Optimizer for Wholesale Payments
See how GoodLabs exploit the most advanced hybrid quantum solver to improve the liquidity efficiency of the High-Value Payment System.
Watch the Recording

18, May 2022
Logistics Optimization: Port of Los Angeles
See how SavantX developed and deployed new technology using AI and D-Wave's quantum computer to optimize terminal operations.
Watch the Recording

06, April 2022
E.ON: Optimizing the Renewable Energy Grid with Quantum Computing
See how E.ON, a leading German utility company, used D-Wave quantum technology to optimize the renewable energy grid.
Watch the Recording

16, March 2022
Quantum Programming: Ocean Tips and Tricks
Learn more about quantum programming with Ocean from a D-Wave expert.
Watch the Recording

18, January 2022
Quantum Programming with Hybrid Solvers
Learn more about our newest hybrid solver for constrained quadratic models, which incorporates problem constraints into the solver to allow users to benefit from a simplified expression of their constrained problems.
Watch the Recording

17, November 2021
The State of Quantum in Business
Hyperion Research's Chief Analyst for quantum computing discusses the results of a recent survey exploring commercial perspectives on quantum computing use cases, challenges, and opportunities.
Watch the Recording

05, October 2021
Qubits 2021
If you missed Qubits 2021, you can still register to view sessions on D-Wave technology updates, customer applications, and the latest quantum research on demand.
Watch On-Demand

28, July 2021
Webinar: Quantum Computing for Financial Services
Learn how quantum computing can solve challenges in financial services such as portfolio selection, asset allocation, and rare event classification.
Watch the Recording

27, February 2020
Webinar: Introducing Leap 2, with powerful new quantum cloud capabilities
Watch the Recording

21, April 2021
Webinar: Getting started with D-Wave on AWS through Amazon Braket
Watch the Recording

17, November 2020
Webinar: Quantum Computing in the Enterprise: 451 Research Report Results
Watch the Recording